Kindle Fire gets easy 1-Click root
3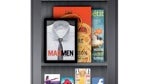 We didn't really expect it to take the mod community too long to pull it off, and it hasn't. Just a couple days after the Kindle Fire release, it has not only been rooted, but given the super easy 1-Click treatment.
Amazon released the source code for the Kindle Fire today, and after that it was a very quick step to get the device rooted. Unfortunately, this is just the first step, because having root access may give some apps more features or make some apps, like Titanium Backup, the great things that they are. But, apps that get better with root access don't exist in the Amazon Appstore, so we'll have to wait until the source code can be turned into a custom ROM with access to the Android Market before we get that kind of fun.
Still, root access may only be the first step, but it is a big first step. And, it's not even too difficult to root, because it can be done with the SuperOneClick tool (for Windows users only). The full directions are on the other side of the link.