Note 4 goes out against the One (M8) in early speed comparison, loses
98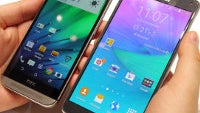 When one thinks about the Android market, there hardly is a bigger rivalry right now than the one between HTC and Samsung. To an extent, it's easy to see why this rivalry exists - HTC was the first phone manufacturer to adopt Android, and for a while, it was the definitive go-to company if one wanted an Android smartphone. Then, Samsung came with its Galaxy S line and completely turned things around in just a few short years. Today, Samsung enjoys a more than healthy Android business, while HTC is struggling to remain profitable.
But enough of that history lesson. The point is that both HTC and Samsung are extremely motivated to prove that they deserve to be the top Android phone manufacturer. And that epic battle has continued here at IFA 2014, where
HTC announced a new mid-range smartphone
, the
Desire 820
, while Samsung unveiled the latest installment in its popular phablet line - the
Galaxy Note 4
. But naturally, we ain't going to bother comparing the Desire 820 with the Note 4. Rather, we decided it is HTC's finest, the One (M8), that should go out against Samsung's new phablet in a sweet little speed comparison that we staged right on the expo's show floor.
Of course, before you hit the play button of the video below, we have to go through the usual disclaimer that the Galaxy Note 4 unit that participated in this race probably wasn't running a perfectly final software build, suggesting that things may be improved when the device launches officially. Then again, this early speed comparison does give us an idea of what kind of performance difference to expect out of the Note 4 and its rival, the HTC One (M8), at least when it comes to launching applications (from a cold start).
So, want to know who comes out on top? Well, while the difference between the two certainly isn't that big, it's safe to say that the One (M8) manages to gain the upper hand more often than not. Without futher ado, watch the two super-phones battle it out in the following video, and let us know if this gets you worried about TouchWiz's performance on the Galaxy Note 4!