Norton says Android security threats are only going to get worse
55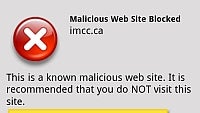 First off, let's be honest: security
threats to Android
are in Norton's best interest. After all, they recently released an anti-virus solution for the Android operating system, so spreading fear will help their bottom line. But that doesn't mean they don't have some good points.
According to Norton, the increasing malware problem on the Android OS is only going to get worse. They explain that Android has three key features that make it a target:
it's an open platform, it's monetizable, and it is increasingly ubiquitous
.
What's more, it's scarily easy to make an Android app into a Trojan horse. So it doesn't take a technical mastermind to make spyware, adware, and other malicious apps. And, while we're not blaming Google, the
Android Market
isn't exactly Fort Knox. Google will remove apps if they are reported, but they don't vet them in the same way that Apple does.
And we're really not blaming Google. The problem with fame and success, as any pro athlete will tell you, is that the world will come after you for all you've got. The real problem is that mobile malware is a young threat, so we haven't fully built solutions to combat it, as we have with traditional computers. Not to freak you out too much, but we imagine hackers are drooling over the potential for an
NFC revolution
, which would put more than our Facebook passwords at risk. Yay, fear-mongering!
source: Symantec via
IntoMobile
Recommended Stories