North Korea to get a visit by Google's Eric Schmidt
7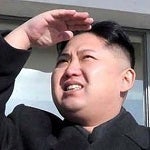 Google's executive chairman will accompany former New Mexico Governor Bill Richardson on a humanitarian mission to sheltered country.
Business leaders have visited the Democratic People's Republic of Korea before, but this will be a first for any senior executive from Google, the world's largest internet search provider. That Schmidt will be visiting the world's most internet unfriendly country provides a true yin and yang to the picture.
It was not reported who Schmidt or Governor Richardson would be meeting with when they make the trip, which may occur later this month. North Korea may have as many as one million cell phone users, and we got to see images of
an unknown North Korean tablet running Android
back in September (maybe that is why Schmidt wants to go). North Koreans are not allowed to access the internet, and the cell phones are certainly not the latest Galaxy line-up from Samsung. It will be interesting to see how Schmidt, who is an advocate of bringing the internet to everyone everywhere, will temper his message to discuss the benefits of the open the flow of information.
North Korea's Cutting Edge Technology
North Korea's dictator, Kim Jong Un, announced that the starving nation is in the midst of a industrial revolution during his New Year's Day speech. He wants a computer in every school and digitized machinery in every factory. However, the trip by Schmidt and Governor Richardson will probably not make very many inroads to that effect, since North Korea just launched a missile into orbit last month which has raised the hackles of many in the geo-political sphere.
The Korean peninsula has been in a state of a "cease-fire" since 1953, technically, a state of war still exists between North and South Korea. Despite that, emissaries from other nations have made trips to North Korea on humanitarian missions. Governor Richardson has made several trips since the mid-90s. Schmidt's trip is interesting since he has been heavily involved in US foreign policy in the context of the "The New Digital Age," a book he is working on about the role of the Internet in its influence on shaping society, due to be published in April.
source: Associate Press via
Fox News