The Lumia 520 is the new king of the WP universe, Nokia accounts for about 80% of all WP devices
51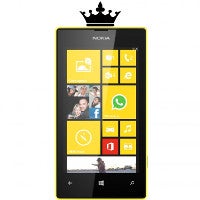 According to tradition, mobile ad network
AdDuplex
has just outed its monthly report on Windows Phone usage, reporting an interesting turn of events.
The Nokia Lumia 520 has been crowned king worldwide, with the device reportedly climbing to the number one spot from its last month's fifth. Dethroned is the company's current flagship, the Lumia 920, followed by the Lumia 620, which took home the bronze. Also intriguing is AdDuplex's first introduction of African countries to its reports – the startup doesn't miss noting that
Huawei's 4Afrika
(a rebranded W1) is nowhere to be seen.
The impressive rise of the Lumia 520 has been depicted in a separate chart, showcasing its ascent from obscurity less than 4 months ago, to its current dominance –
the 520 accounts for about a fifth of all new app installations
. Unsurprisingly, the budget-friendly 520's popularity is fueled by sales in developing countries, such as India and Brazil, among others.
As you gleaned from the title, Nokia remains the absolute king of the WP universe, accounting for about 80% of all WP devices. In terms of WP8 devices, specifically, the Finnish manufacturer has the lion's share with a little over 85% of those worldwide. HTC, at 11.5% is second, with Samsung and Huawei trailing far behind at 2% and 1.1%, respectively. What's more, WP8 has continued to steal share from its predecessor (WP7), with 61% of Windows Phone devices now relying on it – an 8% increase from just a month back.
Turning to the US of A, we see a similar story – WP7 is quickly becoming extinct, shrinking to about a quarter of the total WP ecosystem. In terms of manufacturers, Nokia is again the biggest player (77.1% of all WP8 devices), but HTC is also flexing some muscle, at a respectable 1/5th of the WP8 market using its handsets.
Speaking of HTC, the 8X seems to have won the hearts of WP-loving Americans, taking the 3rd place with 14% of all WP devices in the US. Nokia's Lumia 822 is first, at 20.7%, followed by the Lumia 920 at 18.3%.
For a full (and more graphical) disclosure, take a peek at the gallery below.
A breakdown of the Windows Phone universe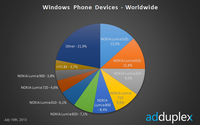 source:
AdDuplex