Nokia already teasing the "next major launch" for later this year
31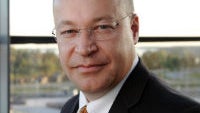 The Nokia Lumia 1020 is barely out the door and Nokia is already teasing the "next major launch" that is planned for later this year. Nokia CEO Stephen Elop casually tossed in the phrase during the question and answer section after today's
announcement of the 1020
. The idea that there would be another Nokia device this year isn't anything surprising, but the idea that it would be a "major launch" is interesting.
It's pretty common to expect two major releases per year from a mobile manufacturer. Regardless of the smaller releases, Samsung's major releases are the Galaxy S in the spring and the Galaxy Note in the fall. HTC has the One in the spring and the One mini in the fall. Even Google is expected to release the Nexus 7 this month, and the Nexus 5 and 10 refresh in the fall. So, it sounds like Nokia is going with the 1020 now, and another "major launch" in time for the holiday season.
The key of course is the word "major", which implies it won't be refreshes or variants on the 1020, like the Lumia 925 and 928 were compared to the 920. "Major" implies a flagship device worthy of a larger model number bump. Of course, implying something and actually delivering are two different things, so we'll have to wait and see what's to come from Nokia.