Nokia's Erdos reveals elegance and class in promotional video
This article contains unofficial information.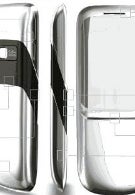 Looking almost like a cigarette lighter on steroids, the Nokia Erdos is actually a cellphone encased in a smooth stainless steel body. When the slider is open, the keyboard rises to meet your touch and the screen is a mirrored
2.4
inch QVGA OLED display. The Erdos sports a 5MP camera with AF and optics from Carl Zeiss, along with dual LED flash, Wi-Fi, LED activity lights, microSD memory expansion by 8GB, and 3G connectivity. While the Finnish manufacturer normally uses the S40 OS for its 88xx line, the Erdos is said to be powered by S60. Launch Date? Carrier? Pricing? No, No and a thousand times No. And speaking of numbers, you know that this device-if it comes to market-will not be found in the bargain bin.
source:
CELLPASSION
via
BGR