Nokia shows the "Amazing Everyday" in creative, funny marketing stunt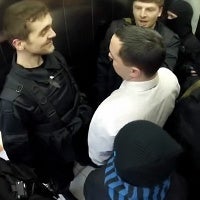 Nokia
might not be in its best financial shape
, but it's still got plenty of creativity to make up for disappointing Symbian sales, and get through the tough adaptation period with probably the best sense of humor in the industry.
Doubt it? You shouldn't - just check out the
"Amazing Everyday,"
courtesy of Nokia Russia, where things get hot, really hot in an elevator. The marketing stunt has little to do with the actual devices - it shows the human Angry Birds chasing equally hilarious human pigs, both storming an elevator with strangers, it shows the police surrounding single strangers on that very same elevator and finally thinks escalate with girls gone wild in a slightly NSFW, but pretty amusing video (the last one).
So what are you waiting for - check them all out below and sing along. To what? Gloria Gaynor, if you're like us and replay that first video over and over again.