Nokia sees "interesting opportunity" for a Windows tablet
6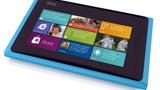 Fresh off of revealing its first Windows Phone 7 handsetsat Nokia World, technology pundits are already beginning to ask whetherNokia will also jump into the tablet computing fray. Speaking to the Financial Times, Nokia CEOStephen Elop demurred about any specific tablet plans, but had this to say:
"We are not commenting on specific plans for tablets. But Iwill point out that one of the things that we are excited about in terms ofsupport for the Windows Phone are the announcements made around Windows 8 fortablets and personal computers. When you see the user experience from the NokiaLumia environment appearing on hundreds of millions of tablets and PCs in thefuture, you can see that there is a clear synergy between all thoseenvironments. So that presents an interesting opportunity for Nokia."
Microsoft has ruled out tablets based on Windows Phone 7, soa potential Nokia tablet would presumably run on the upcoming Windows 8 platform, which has a tablet-friendly touch interface that borrows heavily fromthe Windows Phone 7 Metro UI. That meansany plans would have to wait until Microsoft is ready to ship Windows 8.
A Nokia branded slate would appeal to followers of the Finnish handset manufacturer, but the company may choose to proceedwith caution. Developing for the fullversion of Windows may present different challenges then creating handsets forMicrosoft's mobile OS. Mary McDowell, theexecutive vice president in charge of mobile phones at Nokia, pointed out thatthe tablet market is very competitive, with Apple's iPad product linedominating the competition. McDowellsaid that any effort by Nokia in the tablet market would need to build off of futuresuccess in the smartphone market.
source: Financial Times via All Things D.