Enter Nokia Lumia 800 - "the first real Windows Phone"
23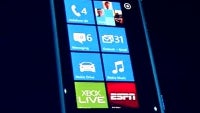 We've been waiting 8 months for its make-it-or-break-it Windows Phone strategy to materialize in something tangible, and today CEO Stephen Elop whipped out the
Nokia Lumia 800
- the first Nokia Windows Phone!
Stephen Elop actually went so far as calling it "the first real Windows Phone".
Available in black, cyan and magenta, it is crafted in the ergonomic
pillow-shaped form
of the
Nokia N9
, made out of deep-colored polycarbonate, and sporting a 3.7" 480x800 pixels ClearBlack AMOLED display, as expected. The handset is 0.48" (12.1mm) thick, on 124g of weight.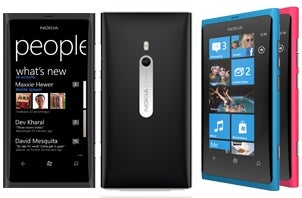 It is powered by a 1.4GHz processor, with 16GB of internal storage, 1540mAh battery good for 9.5 hours of talk time in 3G mode, and a microSIM slot plus 14.4Mbps HSDPA radio and NFC. The 8MP camera on the back with Carl Zeiss lens sports f/2.2 aperture, and an optimized dual-LED flash aims to avoid washing out the details. The camera is capable of 720p HD video recording at 30 frames per second, and there are dual-mics for noise cancellation.
A lot of the initial presentation was spent to tout features that already come with Windows Phone Mango - People Hub, Pictures Hub, Microsoft Office Hub, IE9 Mobile, Xbox Live, 25GB SkyDrive storage, etc. - which are a first for a Nokia handset, of course.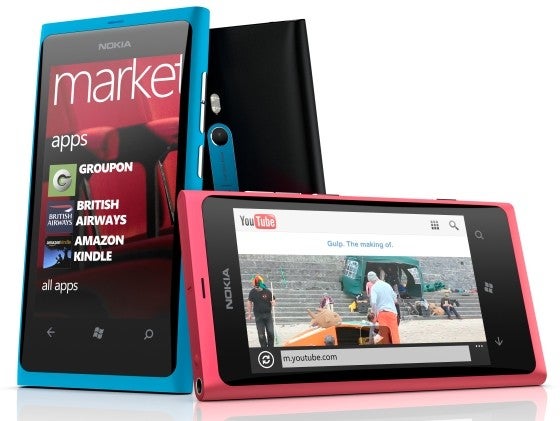 The new twist is
Nokia Drive
- a full-fledged offline navigational software in most countries around the world, with free voice guidance - Nokia Maps translated to Windows Phone, which will be a great differentiation to stand out in the WP crowd.
Another feature that sets the Nokia Lumia 800 is Nokia Music, a new way to find and experience music with something called
Mix Radio
- a seamless way to stream preconfigured mixes of full-length tracks without any subscription, login or other annoyances in the way, and you can download the mixes for offline listening.
The other freebie that will come only on Nokia Windows Phones is the
ESPN Sports Hub
, where you can look up stats, events ans scores, and you can even pin your favorites to the Start screen tile.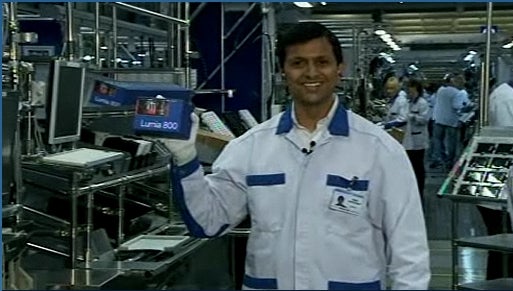 Nokia Lumia 800 is already shipping from the factory in Finland to its first EU markets
CEO Stephen Elop clarified that they already have over 30 carriers and retailers signed up to distribute the device, and the marketing push behind it will be unprecedented for a Nokia handset. The Nokia Lumia 800 is expected to land for about $580 (EUR 420) without carrier subsidies.
The phones are already on the trucks to UK, France, Germany, Italy, Spain and the Netherlands for sales start in November. Before the end of the year it comes Hong Kong, Singapore, Taiwan, India and Russia.
US comes next in early 2012
, China in the first quarter of 2012, and a
ll baseband radios will be covered
down the road - HSPA+, CDMA and LTE (Verizon people have been spotted at Nokia World 2011 today). The Nokia Lumia 800 is already available for preorder on Nokia's website.