Nokia says it has started the global rollout of the Lumia Black update; find out what's new
25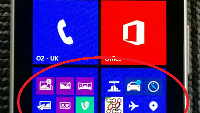 Nokia has announced the global rollout of its Lumia Black update. The
Nokia Lumia 1020
and
Nokia Lumia 925
will be the first Windows Phone 8 models to receive the update with the rest of the Nokia Lumia Windows Phone 8 lineup to receive it in the weeks ahead. Nokia Lumia smartphones check for a new update automatically each week, so you will be notified when Lumia Black arrives. You can try to pull it out of your phone by going to Settings -> Phone update.
The Lumia Black update will add the ability to create folders on your start page, with similar apps grouped together in a folder on one Live Tile. The update also brings you Nokia Glance screen 2.0 which will show you notifications related to your phone, email, calendar, outlook, or apps like Twitter and Facebook. Bluetooth LE will be added to all Nokia Lumia Windows Phone 8 models thanks to Lumia Black, and will allow you to run certain accessories like Adidas MiCoach.
Nokia Lumia models with 1GB of RAM or more will now have the
Nokia Refocus app which offers Lytro-like features
. You can change the focal point on a picture after it has been processed on your phone. You can put the focus on the foreground, on the background, or have all-in focus, which removes depth from your photo. Another cool feature is Color Pop which allows you to remove all color from a photo and add it back only in those areas where you want color.
Also coming to all Nokia Lumia handsets sporting 1GB of RAM or more is Nokia Beamer. This app allows you to share photos, files, presentations and other content, to an HTML5 enabled screen with the use of a QR code. Nokia Storyteller is an app that helps you arrange your photos by date and place to make it easier for you to use them to tell a story. And the Nokia Camera app, which has been limited to models with a PureView snapper, is coming to the entire range of Nokia Lumia Windows Phone 8 smartphones. The app allows you to take great pictures, even if you're not proficient with a camera.
We should mention that with a number of these apps requiring a Lumia model with no less than 1GB of RAM, those with the
Nokia Lumia 520
/521 might want to look into upgrading to the
Nokia Lumia 525
once it becomes available in their market. The Lumia 525 has the same specs as the other two popular entry level models, but has twice the amount of RAM at 1GB, which will allow it to support all of the Lumia Black additions.
source:
Nokia