Nokia missed the boat with early prototypes that hinted at the Apple iPhone and Apple iPad
21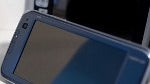 "I was heartbroken when Apple got the jump on this concept. When people say the iPhone as a concept, a piece of hardware, is unique, that upsets me."-Frank Nuovo,

Nokia's former chief designer
Over 10 years ago, Frank Nuovo was
Nokia's former chief designer and he
displayed a unique mobile phone prototype with a color touchscreen above a single button. The device was seen finding a restaurant, playing video games and ordering lipstick. Sound familiar? Remember,
this was 7 years before the introduction of the Apple iPhone
. And if that isn't bad enough, in the early 1990's Nokia had developed a mobile computer-a tablet if you will-with a touchscreen and a wireless connection.
So what does Nuovo say about beating Apple to the punch with early prototypes of two products that eventually became two of the
biggest consumer electronics devices
ever made? "
Oh my God
," he says, "
We had it completely nailed
." While Nokia was spending tons of cash on R&D, it never took any of these products to market. The Finnish handset manufacturer was the global leader for 14 years in providing mobile phone handsets, but
the company lost its crown to Samsung
as smartphones started to grab marketshare from featurephones. At the end of 2007, after the Apple iPhone had been on the market for about 5 months,
Nokia's marketshare globally peaked at 40.4%
. Now, the Finnish handset manufacturer had a marketshare of 21% in this years first quarter, and
a stock price that has dropped to a 16 year low
. In Q1, Nokia lost the equivalent of $1.1 billion USD vs.a profit of $422 million USD the year before.
"What struck me when we started working with Nokia back in 2008 was how Nokia spent much more time than other device makers just strategizing. We would present Nokia with a new technology that to us would seem as a big opportunity. Instead of just diving into this opportunity, Nokia would spend a long time, maybe six to nine months, just assessing the opportunity. And by that time the opportunity often just went away."
-
Paul Jacobs,

Qualcomm Chief Executive
While Nokia has spent $40 billion over the past 10 years on R&D, four times more than the amount spent by Apple in the same period, infighting within the company prevented Nokia from taking advantage of some of its R&D spending. Stephen Elop, Nokia's CEO, has two OS and a ton of patents to unload that analysts say have a value of $6 billion which is the majority of the current valuation of the company. Elop will
probably sell many of these items to raise enough money
to keep Nokia alive until it becomes self sustaining once again. Elop can only sit back and wonder what might have been had Nokia felt ambitious enough to bring its inventions to the marketplace.
"If only they had been landed in products, I think Nokia would have been in a different place."-Stephen Elop, Nokia CEO
After Elop took over at Nokia, the company announced a deal with Microsoft and now
Nokia's survival will depend on Windows Phone
. It isn't the first time a handset manufacturer made a big all or nothing bet on an operating system. Motorola CEO Sanjay Jha was fairly new to the company when he said that Motorola would live or die with the then obscure Android OS. It was a successful bet as Jha rolled a 7 with the Motorola DROID which was the first to run Android 2.0, and the rout was on.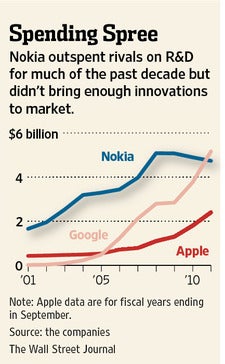 Nokia outspent Apple in R&D and had nothing to show for it
Nokia produced its first smartphone in 1996, the Nokia 9000. It could surf the web, read emails and fax.
Weighing nearly a pound
, the device put Nokia 5 years ahead of everyone else according to former CEO
Jorma Ollila
. But that lead would soon get coughed up. When Motorola's thin RAZR flip-phone became a world-wide smash in 2004, Nokia merged its basic phones with its smartphones and the featurephones took over leadership of the division. Nokia's smartphones had hit the marketplace too early before consumers knew what to do with them. And then when the Apple iPhone came out, Nokia said that the device
wouldn't have passed its own drop test
. In addition, it was too expensive to make and worked over EDGE, not 3G. But soon Nokia realized that much of the attraction for the iPhone was because of the software. Nokia tried to modernize its aging Symbian OS, but it didn't work. Last year, Nokia tried MeeGo on the Nokia N9, and while consumers seemingly loved it,
CEO Elop killed it off to concentrate on Windows Phone
. This might turn out to be another decision that bites Nokia on its rear since some
Nokia employees have left the company to start a new company
, Jolla, to develop smartphones using MeeGo and carrying some patents from Nokia with them.
Nokia is
undergoing a major restructuring that will result in the loss of 10,000 jobs
, There is a question about how successful its Nokia Lumia has been in the U.S. and now the company has to go up against not only the Apple iPhone, but also the sizzling hot Samsung Galaxy S III. Meanwhile, with Windows Phone 8 soon to be launched, the
Nokia Lumia 900 has seen its price sliced in half
. Imagine how
different everything would be now had Nokia decided to come to market with those two prototypes 10 years ago
.
source:
WSJ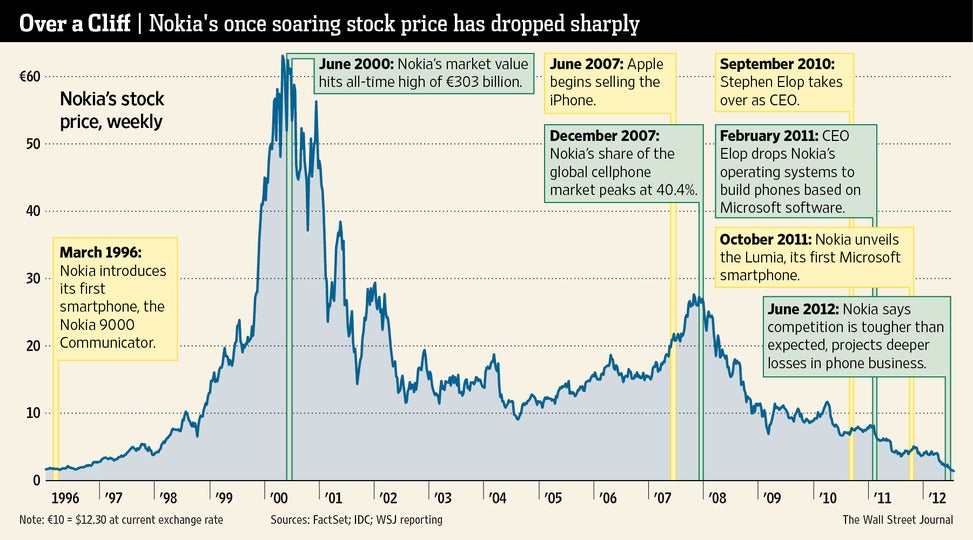 It has been a rollercoaster ride for Nokia investors