Nokia keeps weird silence about MeeGo, could it be because it outsold Windows Phone?
42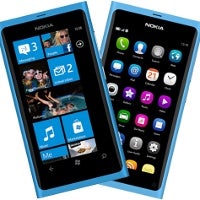 Nokia has just released its financials
for the last quarter of 2011, and the whole of the year, and it's an extremely exciting read. Interestingly, that's not because of what it says, but becuase of what it doesn't.
Nokia kept a
weird silence about sales of its MeeGo platform
, represented by the Nokia N9, which cannot go unnoticed. At the same time, the Finns did not give out sales of Windows Phone in the same period. Could it be because MeeGo with only the Nokia N9 outsold Windows Phone in Q4 2011?
Nokia has left the door wide open for speculation by keeping mum on the details. Here's the only mention of the N9 in the report:
"The increase in our Smart Devices volumes in the fourth quarter 2011 was primarily driven by the broader availability throughout the quarter of the Nokia N9 and the shipments during the quarter of the Nokia Lumia 800 and 710 in selected markets, as well as increased seasonal demand for our devices."
Notice that the Nokia N9 is mentioned first. Now, to give you some wider context on why we theorize about such a possibility: after spending billions on development Nokia suddenly announced it's marginalizing its MeeGo effort and will release one last handset. This was the N9 which went on sale last summer. Back then, some nay-sayers doubted the future of the Nokia Windows Phone and asked Elop
what would happen if the N9 sold better than Windows Phone
. Elop then gave a very controversial answer, especially considering his position as CEO of Nokia by saying that even in that case, the company would not promote sales of its MeeGo smartphone.
On the other side, there was Windows Phone, which the company is promoting extremely vividly by spending millions, plus getting
platform support of $250 million from Microsoft
. It's only logical to assume that Nokia wants to paint the best picture possible for its Windows Phone figures. Proving that is the fact that Nokia made an exception for Windows Phone shipments. Nokia reported
"well over 1 million"
shipped handsets, but unlike all of the report which focused around Q4 2011, this figure is for a wider period,
"up to date."
We should also note that the figure does not represent actual sales to customers, but units shipped to retailers, which are yet to be sold.
What do you make of Nokia's weird silence about MeeGo? Could the N9 have outsold the Nokia Lumia range or is it an overkill to assume something like that? Drop your two cents below.
source:
Nokia