Nokia gives Android attitude hours ahead of big Lumia event
55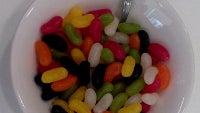 Nokia has a huge announcement to make today - its joint event with Microsoft in the Big Apple kicks off in just around two hours, and the company's official Twitter account is all fired up for the big moment, starting the day by tweeting a picture of a bowl full of jelly beans, a spoon and the swaggery
"Today we dine on Jellybeans."
There is an old Lumia smartphone pictured right below and it definitely seems like Nokia is giving Android the attitude. So far however this seems like an empty threat - Nokia's Windows Phone-based Lumia smartphones have accumulated 7 million sales so far in almost a year after the first Nokia Lumias arrived, and that's as much as Google is shipping in Android smartphones for... a week.
Interestingly, Nokia's tweet also says
"Breakfast in New York on a big day for us!"
but the caption on the tweet states that the tweet comes from Finland. Oh well. Let's hope that the much anticipated new PureView Lumia 920 really delivers. Nokia under Stephen Elop lost 70% of its market value in the past two years.
source:
@Nokia