Nokia executive: youths "fed up" with iPhones, Androids too complex
58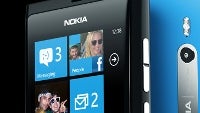 When you can't beat them with products, you can beat them with words. It seems that that's the kind of approach taking over at Nokia as competition from both Android and the iPhone tightens up. The Street expects Apple to deliver another record breaking quarter with
iPhone sales nearing 30 million
, and
Samsung has just announced it's already sold 300 million phones
with such success fueled by the Android-powered Samsung Galaxy S series, but Niels Munksgaard, Director of Portfolio, Product Marketing & Sales at Nokia Entertainment, begs to differ.
The executive thinks that in reality, iPhones and Androids are not popular with one particular group:
"What we see is that youth are pretty much fed up with iPhones. Everyone has the iPhone,"
Munksgaard said in an interview with British tech blog Pocket-lint.
"Also, many are not happy with the complexity of Android and the lack of security. So we do increasing see that the youth that wants to be on the cutting edge and try something new are turning to the Windows Phone platform."
Of course, that's where Nokia would fit in. Interestingly, Munksgaard also complains about the lack of differentiation in products.
"The marketplace is extremely crowded. I refer to it as the sea of sameness,"
he said.
"When you walk up to a retail shelf at Phones4U and see the number of black mono-blocks sitting on the shelf, it is very confusing to the consumer. We want to deliver services and phones that are different."
Nokia indeed has tried to differentiate in the Windows Phone world with apps like Nokia Mix Radio, but by large you'd find it hard to tell a Nokia Windows Phone UI apart from all others as Microsoft keeps a tight grip on that.
The Finns were dethroned from the smartphone throne by both Samsung and Apple in recent quarters, and are eager to regain their positions. With this said, what's your opinion on the market, are you content with the customization you get on a Nokia Windows Phone? Are you or your younger pals "fed up" with the iPhone and Android?