JP Morgan revises Q4 iPhone estimate: "Santa's sleigh needs more room for iPhones"
11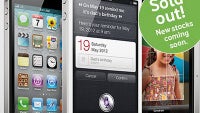 Investment bank JP Morgan revised their estimate for iPhone shipments during this Holiday quarter, increasing them noticeably to the whopping
28 million
. Apple's revenue is now projected at $38.69 billion, enough to make JP Morgan analyst Mark Moskowitz exclaim:
"Santa's sleigh needs more room for iPhones."
The previous forecast placed Holiday quarter iPhone shipments at 25.3 million, a difference of nearly 3 million before and after. Moskowitz also mentions that US carriers were literally "surprised" to see the huge and growing demand for the iPhone 4S, while iPhone 4 and 3GS sales remained strong as well.
If JP Morgan's analysis comes close to the truth, this Holiday quarter ending in December will be the best for Apple, beating its previous record in Q2 by a large margin. In the second trimester of the year, Cupertino sold 20.3 million iPhones.
JP Morgan's report is
more optimistic than the average opinion of the Street
where Apple's revenue is expected to near $38.02 billion with $9.78 earnings per share (EPS). Moskowitz in contrast places EPS at $9.87.
With the bump in Holiday sales estimates, the report also revised the 2012 and 2013 outlook for Apple. In 2012, Moskowitz said expectations were for 105.5 million handsets sold, while for 2013 that number is to jump to 121.7 million.
Interestingly, JP Morgan
cooled down its iPad forecast
to 13 million, down from 13.3 million, citing "limited uplift in build quality" as the reason. Another small factor contributing to the revised number is the impact of the Amazon Kindle Fire which he described as having better-than-expected momentum with those looking for a cheaper tablet.
Do you agree with the investment bank's revised statement about Apple's Holiday sales? How do you think the company will do this trimester?
Recommended Stories