Nokia chief executive Elop taking heat from investors, blamed to have put company on 'the road to hell'
92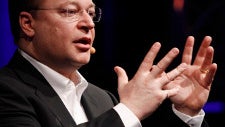 Nokia shareholders criticized chief executive Stephen Elop sharply for his decision to adopt Windows Phone exclusively and not consider other smartphone platforms. As the transitional two years since Nokia went Windows Phone in February 2011 have already passed, investors at the annual shareholder general meeting in Helsing increasingly suggest the Finnish phone maker should look at Android as a plan B.
"You're a nice guy ... and the leadership team is doing its best, but clearly, it's not enough,"
Hannu Virtanen, a Nokia shareholder told Elop.
"Are you aware that results are what matter? The road to hell is paved with good intentions. Please switch to another road."

Nokia, once a pioneer in smartphones, held on to its dated Symbian platform for too long while Apple's iOS and Google's Android, two modern operating systems, developed quickly leaving it in the dust. But Nokia fell off the cliff in the middle of 2011, right after it announced its decision to ditch Symbian and MeeGo, and adopt Windows Phone. Since then Nokia shares have dropped catastrophically.
Chief executive Stephen Elop however only reaffirmed Nokia's determination to stay exclusively in Windows Phone.
"We make adjustments as we go. But it's very clear to us that in today's war of ecosystems, we've made a very clear decision to focus on Windows Phone with our Lumia product line,"
he said.
"And it is with that that we will compete with competitors like Samsung and (Google's operating system) Android."

Nokia Lumia Windows Phone sales surpassed Symbian for the first time two quarters ago, and last quarter Nokia grew Lumia sales to 5.6 million. A lot of that comes from more affordable Windows Phones that Nokia has introduced, and analysts agree that it's one area where Nokia can still compete with devices like the Lumia 520.
source:
Reuters