Nokia and Apple ranked high in the Greenpeace "Guide to Greener Electronics"
6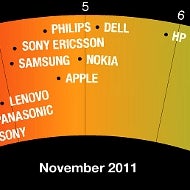 Nokia is 3rd and Apple 4th in the annual Greenpeace ranking of sustainable electronics manufacturing, where the crown is taken by HP. Nokia has long been labeled the greenest cell phone company out there, while Apple seems to have improved on green products and sustainable operations quite a bit, but scores poorly on energy.
Nokia 700
.
It's free of pollutants like PVC, RFR and BFR, similar to all Nokia phones, but also constructed using materials like bio-plastics, recycled plastics and recycled metals, and those efforts haven't escaped the attention of Greenpeace.
Sony Ericsson and Samsung are also at commendable places - sixth and seventh, respectively - but LG and RIM are at the bottom of the ranking scale.
source:
Greenpeace
via
AppleInsider