Nokia Lumia 525, a sister phone to the most popular Windows Phone, is coming up
21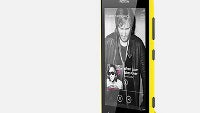 The Nokia Lumia 525 is coming up soon. The device that has originally surfaced in leaks as the Nokia Glee, has now been confirmed to be the Lumia 525, and it is expected to come as a slight upgrade over the most popular Windows Phone device out there, the Lumia 520.
That's about as much details as we have right now, but we can assume the Lumia 525 will be a modest upgrade over the Lumia 520. After all, the Lumia 520 with its spacious 4-inch display and powerful Snpadragon S4 system chip, all for a price that nearly matches that of most affordable Android devices, proved extemely popular.
The Lumia 520 quickly rose to become the most popular Windows Phone devices in multiple markets, especially the more price-sensitive ones.
We expect to see the Lumia 525 get announced officially at the end of the month in Abu Dhabi, where Nokia is holind a huge press conference. The Finnish company should bring six new devices there, so stay tuned.
Nokia Glee = Lumia 525

— @evleaks (@evleaks) September 30, 2013
source:
@evleaks