Nokia, Samsung, HTC and Huawei will be building Windows Phone 8 devices with Qualcomm Snapdragon chipsets
18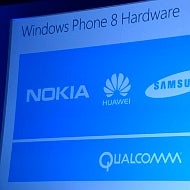 Microsoft said its hardware partners for
Windows Phone 8
will include Nokia (of course), but also Samsung, HTC and Huawei. Qualcomm Snapdragon will be the silicon of choice, meaning that we will probably see dual-core phones with Snapdragon S4 being predominant in the Windows Phone 8 universe.
WP 8 will be available at once in 180+ countries and in 50 languages, further expanding the global reach of the platform. All software updates will be guaranteed for at least 18 months, and if you get a more powerful device probably further.
Unfotunately that
doesn't include existing Windows Phone Mango handsets
, which will get a more stripped down version that includes the new visual candy like resizable and free-moving tiles, but not apps like Wallet Hub, since they just don't have NFC, and so on.