Nokia Maps 3.08 brings live traffic updates and some MeeGo/Symbian Belle interface clues
3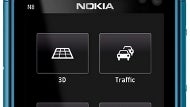 Nokia Maps is one of the main selling points for Symbian devices, and with the latest 3.08 update the company not only improves on the free offline navigational software, but also gives us clues how the Symbian Belle interface might look like.
Not to mention the dashboard, which totally looks like the one in the Nokia N9 Maps and Drive applications. The "loading" circle is also a new twist - it seems that Nokia is making good on its promise to out new features as soon as they are ready, instead of waiting for major releases.
As for
Nokia Maps 3.08
, here is the changelog, a lot of new features added to an already excellent free offline navigational software:
Live traffic routing takes traffic information into account to avoid traffic jams automatically (available in Germany, France, US, UK and Russia).
Turn on "Avoid traffic" in your "Route settings" to take traffic conditions into account while you drive. Always get the best route for right now.
New Drive look & feel - home screen now has buttons for "Set destination," "Drive home" and "Just drive."
"Just drive" or Drive assistance shows your accurate speed, gives speed warnings, the distance driven and real time traffic.
New information bar on Drive navigation and Drive assistance screens.
Also easily toggle between Estimated Time of Arrival in minutes or distance to your destination - just tap the icon on the screen.
New option menus in Drive.
Set a contact as a destination.
Easily change your settings during Drive navigation. Changes in settings are immediate and can been seen instantly.
Long tap is now available to give quick access to "Drive to," "Walk to," "Share" and various lists.
Settings reorganized to "General" "Maps & Walk" and "Drive."
Below are a few screenshots of the new interface to demonstrate the whiff of MeeGo user interface that is to grace handsets like the
Nokia N8
,
E7
and
Nokia C7
, come Symbian Belle later this year.
Recommended Stories