Nokia Lumia 920 vs Galaxy S III vs iPhone 5 vs Note II vs HTC 8X skateboard image stabilization test
54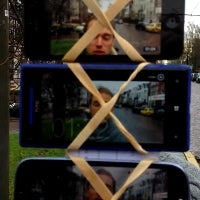 Forget fancy studio equipment and sophisticated photography testing - the Dutch from BesteProduct decided to simply strap a few rubber bands around this season's high-end phones on all platforms, put them on a stick, and carry it around while skateboarding the cobbled Amsterdam streets.
The goal - to check out how the
Lumia 920
optical image stabilization that is touted so much by Nokia will fare against the competition.
Needless to say, just like with the
desert safari test
, the Lumia 920 performed admirably during what is one of its strongest scenarios - shake-free video capture with superb Rich Recording audio. Enjoy the real world testing in the video below.