Nokia Lumia 920 takes the cake in camera comparison vs BlackBerry Z10 vs Galaxy S III vs iPhone 5 vs Nexus 4
60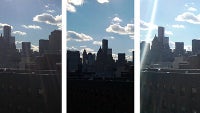 Nokia Lumia 920
got the
Portico WP8 update
recently, making it feel like a totally different phone camera now - in its case dealt not only with OS bugs, but with the camera software algorithms the way they were set out of the box with the pictures very soft and fuzz .
Another brand new entrant in the handset camera field is the
BlackBerry Z10
, which got just recently introduced, and is not even on sale yet in the US, so it merits a comparison with the current cream of the crop handsets from the various mobile operating systems.
The Z10 actually performed quite decently, much better than the
Nexus 4
in any case, but the overall quality award went to the Lumia 920, which is explicable given its suspension mechanism inside that allows much longer exposure times without blur. The
Galaxy S III
and
iPhone 5
also performed in a well-balanced manner, but won fewer scenarios, as most pictures were taken in low light or tricky exposure situations where the Lumia shines, yet the clear loser from the comparison shots you see below was evidently the Nexus 4.