Nokia Lumia 920 goes back in the torture chamber, knife and mallet enter the scene (video)
19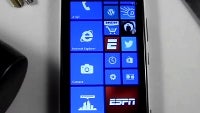 We already got the first
drop test of the tank-like Nokia Lumia 920
, with the phone escaping only slightly bruised from hip, chest and head height drops, including being tossed to the ground by a toddler.
Now the second round of torturing Nokia's newest flagship is in, and it includes tools worthy of a Mexican drug cartel. The phone gets through the regular key scratch treatment, but then things take a bizarre turn, as the knife and the mallet enter the scene.
Key scratches didn't do much, as well as mallet drops, only the knife slashed thin hairlines on the Lumia's back. To further demonstrate the toughness of Nokia's hunk, it was used to hammer nail in a wooden board with great success.