Nokia Lumia 900 seen running Windows Phone 7.8
12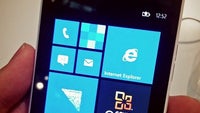 Although we know that older Windows Phone smartphones will get updated to version 7.8 of the mobile platform, we aren't really sure exactly when that's supposed to happen. Yet it seems like the new software is almost ready for prime time as it has been seen running on a
Nokia Lumia 900
.
The unit in question was showcased at the new "Lumia Experience Store" located at Raffles City in Shanghai, China. The Nokia Lumia 900 had Windows Phone 7.8 installed, as users are reporting on the Chinese social network Sina Weibo, and was on display alongside the
Lumia 510
and the
Microsoft Surface
tablet.
Interestingly, one of the folks that got to try out the smartphone first hand says that except for the new interface, he didn't notice a whole lot of changes. The native screenshot capability was missing and the camera interface was the same, he claims. However, it is believed that the interface tweaks won't be the single new feature in Windows Phone 7.8. Several days ago,
Windows Phone Italy revealed some of the new version's advantages
, incuding a calendar sharing function of some kind and access to various Micorosft services such as the Xbox Music store. The post was subsequently taken down.
So in case you are holding on to a Nokia Lumia 900, or any kind of smartphone still on Windows Phone 7.5 for that matter, an update for your device might be right around the corner. Rest assured that we'll let you know as soon as the new software starts rolling out!
source: Sina Weibo via
WMPoweruser