Nokia Lumia 800, 710 getting mobile hotspot with June 27th software update
6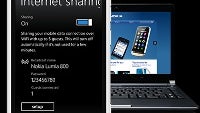 As you probably already know, existing Nokia Lumia Windows Phone devices won't get the update to Windows Phone 8. Instead, some like the Lumia 900 will get a feature pack with the new start screen and some other minor tweaks.
The
Nokia Lumia 800
and
Lumia 710
are two devices that the Finns haven't specified whether they'd update to WP 7.8 or not, but what we do know is that starting from June 27th, Nokia is rolling out an update that will bring the mobile hotspot feature to the two devices, along with other improvements like the flip to silence feature.
The update will roll out in batches, and we expect it to have hit most devices by mid-July. The mobile hotspot features that it adds actuall allows you to share your phone's data connection with other devices like tablets. The feature was not initially present in the Windows Phone platform, so manufacturers like Nokia have to separately bring it to their phones.
Nokia also promises new apps and games for its phones, all coming in the next few weeks. We've already seen the
Camera Extras
exclusive app land for some users introducing features like Smart Hroup Shot, Action Shot, Self Timer and Panorama.