Nokia Lumia 1520 delayed; expect delivery on or before December 2nd
12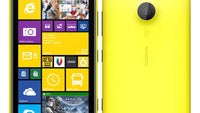 November 22nd was supposed to be the launch date for the
Nokia Lumia 1520
, the first Windows Phone phablet. But some who pre-ordered the 6 inch beast are receiving emails from AT&T or the Microsoft Store stating that the phone has been
delayed
. To help you cope with the delay, those whose shipment is not coming on time from the Microsoft Store will receive a coupon code good for a $25 discount on their next purchase.
According to one person who received the notice, the Nokia Lumia 1520 will now arrive on or before December 2nd. The delay is being blamed on overwhelming demand. Once your shipping label is printed, tracking information will be emailed to those waiting for the phone. Thanks to the GDR3 update, the Lumia 1520 carries high-end specs that match up with any high-end Android device. While that is positive for the surging platform, a delay for its new flagship device is not. Especially when this information was relayed to buyers the evening before the device was to be released.
"Because of overwhelming demand, your Nokia Lumia 1520 order is delayed in shipping. As soon as your shipping label is printed, we'll send you an email with the tracking information. You can also track your order on our site."
-Message announcing delay in Nokia Lumia 1520 shipments
Last week, we told you about
one lucky person who happened upon an AT&T kiosk in a North Carolina mall
that had the phone in stock and sold it to her early. Meanwhile, if you are one of the unlucky ones who now has to wait to receive his Nokia Lumia 1520, let us hear from you in the comments box below.
source:
WPCentral