Nokia Lumia 1520 phablet gets sold a week before its launch
19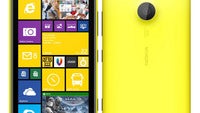 The
Nokia Lumia 1520
phablet isn't supposed to be released by AT&T until this coming Friday. In fact, we told you late Friday that
AT&T had dropped the price of the device on its website to $99.99 on contract
. The hero of our story is named Michelle and she lives or was visiting North Carolina and decided to stop by the mall in Greensboro when she spotted an AT&T kiosk. Being the phone fan that she obviously is, she asked if they had the Nokia Lumia 1520 in stock, which they did. The rest of the story is pretty simple. Michelle asked if she could buy the phone, and it was sold to her at a discounted price of $540.
Michelle's pictures of her unboxing are found below. The phone is the first to offer the GDR3 update from Microsoft which allowed Nokia to stuff the phone with the kind of specs that you'd normally find on a high-end Android model. It is also
the first model to be available with the Nokia Black update
which adds lockscreen notifications, email and messaging, and the Nokia Camera and Storyteller apps.
If the Nokia Lumia 1520 is on your radar, you might want to check your local AT&T stores to see if they have the phablet, and if they will sell it to you. If they don't have it in stock yet, or won't sell it to you, the good news is that you're still only a few days away from its launch.
source:
WPCentral