Nokia Lumia 1030 (aka McLaren) rumor round-up: specs, features, release date, and all we know so far
14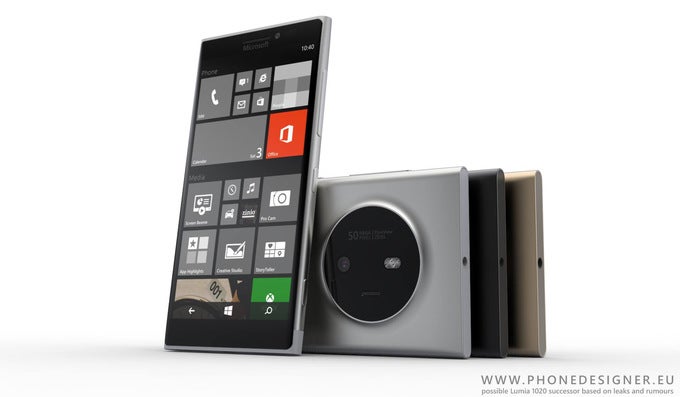 *A fan-made concept render of a possible Nokia Lumia 1020 successor
It was six months ago when we first heard that a new flagship Lumia smartphone, codenamed McLaren, was being developed. Little was revealed about it at the time, but the rumor mill was quick to fill in some of the blanks for us over the weeks that followed. The mysterious Windows Phone 8.1-powered handset was speculated to be a successor to the
Nokia Lumia 1020
and was allegedly going to feature unique "3D Touch" technology for Kinect-like user interaction. Sure enough, a wave of excitement arose among Lumia loyalists and gadget aficionados alike.
In July, however, Microsoft reportedly killed the 3D Touch-capable McLaren smartphone, among other projects it took control over after acquiring Nokia's mobile division. No further rumors supporting the possibility of a Lumia 1020 successor ever materializing came after that point. Until several weeks ago, when a massive leak appeared right out of the blue and
exposed a prototype Lumia handset
. Although the phone didn't appear to support any unusual interaction methods, it was rumored to be the actual McLaren device in the flesh. And it sure had plenty of design similarities to the Lumia 1020, including a large, circular camera hump on the back.
Given the evidence, could a Lumia 1020 successor still be on the company's roadmap? Could Microsoft have only killed the idea of a 3D Touch interface, but not the phone itself? Sadly, we can't give definite answers to these questions, at least not at this time. We can, however, go over all we've heard about this peculiar device from all the rumors that have surfaced so far.
The name: Microsoft Lumia 1030; or not?
The leaked Lumia prototype, believed to be the actual phone codenamed McLaren, did not come with any hints as to what it could end up being called if it ever got announced. All it brought to the table was a model name, RM-1052, which still can't be traced to much when looked up on the internet. There are no tracks of it at the FCC or on any online device database that we checked.
Of course, if the phone in the pictures is meant to succeed the Lumia 1020, then a name like Microsoft Lumia 1030 seems ideal for it. But a phone by that name is currently not in Microsoft's plans, according to rumors. These rumors can be interpreted in more than one way, however. Either the pictured RM-1052 is, indeed, a cancelled model, or Lumia 1030 is simply not what it is going to be known as.
Whatever the truth is, the name of the potential Lumia 1020 successor is anyone's guess at this time. And when we call it the McLaren, keep in mind that it's just a codename rather than an official moniker. The name Lumia 1030 may not be used for it either, but for now, there just doesn't seem to be a better way of referring to the handset.
Design: metal construction, not-so-pretty camera hump
Unlike any Lumia that's been announced so far, the Lumia 1030 could sport a body built mostly of metal. Or at least that's what the leaked prototype appears to be made of on the outside. Plastic is seen only at the phone's bottom, where its antennas are placed, we assume.
On a related note, chances are the phone's design isn't entirely new. In mid-2013, we came across leaked photos of a
metal housing allegedly built for a Nokia Lumia phone
. That all-metal Lumia never materialized, but its design, apparently, has been waiting to be applied to another handset.
Another hard-to-miss design feature of the Lumia McLaren is the protruding camera bump on its back. Needless to say, it is unpleasant to look at. We're also willing to bet that it ruins the handset's ergonomics, knowing how awkward it is to hold an identically-shaped Lumia 1020. But on the bright side of things, there should be a pretty powerful camera module in there, occupying most of that space. But more on the camera rumors later.
As most other Lumias before it, the Lumia 1020 successor should pack a dedicated camera button. Power and volume buttons are found on the same right side of the device. Looking at the leaked images, we see that the top of the device is occupied solely by a 3.5-millimeter headphone jack, and a charging port is present at the bottom. Positioned on the camera bump is what appears to be a single loudspeaker. The SIM and microSD cards sit in their own trays, which require an ejector tool or a bent paper clip to be ejected.
Size-wise, the McLaren is a tad taller than an iPhone 6. It is also thicker than Apple's smartphone, especially in the area around the camera, but then again, few smartphones aren't.
Display: 5 inches or larger, 1080 by 1920 pixels, on-screen buttons
The exact diagonal size of the Lumia 1030's screen is not known. It is definitely bigger than the iPhone 6's 4.7-inch screen, however. That's easy to tell once you take a look at the leaked photos comparing the McLaren against Apple's smartphone. Saying that the Lumia's display measures around 5 inches in diagonal is a safe bet.
With 1080 by 1920 pixels of resolution, the rumored Lumia 1020 successor is on par with many of 2014's high-end smartphones. Its screen won't be looking as sharp next to a QHD one, however. Could have Microsoft picked a 1440 by 2560-pixel screen instead? Well, not really. Simply put, Windows Phone is not meant to operate at such high resolutions, at least not yet.
One of the missing puzzle pieces is the type of screen used for the McLaren. The leaks' sources are mum on the matter, and it is hard to tell looking at photos alone. But we have yet to be disappointed by a high-end Lumia's screen, and we doubt that a 1020 successor would break the tradition.
Features and software: Windows Phone 8.1, "3D Touch" interaction
So, as we mentioned in the beginning of this article, the Lumia McLaren is (or was) supposed to demonstrate a new user interaction technology by Microsoft – a technology that the company has been developing for years. But from the looks of it, the tech is not likely to debut anytime soon.
The idea behind 3D Touch is said to be enabling a smartphone to perform certain actions when specific conditions are met, aided by a multitude of sensors. Think having a phone hang up automatically when it is placed in a pocket after a call, or its loudspeaker turning itself on when the handset is placed on a flat surface. Also, 3D Touch is said to allow the detection of touch input on the handset's sides – for scrolling up and down without touching the screen, for example.
The reasons why 3D Touch and its implementation were put on hold is pretty vague. Though it is said that there simply weren't enough innovative and practical uses for the technology to justify its use. That 3D Touch wasn't reliable or accurate enough is also a possible explanation.
That aside, the Lumia 1030 is made to run Windows Phone 8.1, as it becomes clear from the leaked prototype device. In other words, it comes with Microsoft's Swype-like keyboard called Word Flow, Action Center for notifications and quick settings, an enhanced lock screen, and Cortana – the intelligent, voice-guided personal assistant. For more on the topic, you can read our post on
what's new in Windows Phone 8.1
and the
Lumia Denim
software update.
Under the hood: quad-core Snapdragon SoC, 2GB of RAM
Being a Lumia model, the McLaren has a Qualcomm Snapdragon SoC under its hood. And it is a powerful one at that – a quad-core MSM8974, one of the several Snapdragon 800/801 variants. Its maximum clock speed isn't specified, however.
Furthermore, the phone packs 2GB of RAM, which is not record-breaking, but not bad either. Let's not forget that it's a Lumia we're dealing with, and Windows Phone 8.1 handsets are well capable of running fluidly on much less powerful hardware.

Storage space is plentiful at 32GB – as much as the Lumia 1020 had to offer. Unlike the latter, however, the Lumia 1030 is built with a microSD card slot, which should be capable of accepting cards of up to 128GB in size.
Camera: large, high-res sensor, double LED flash
We're sure you're eager to learn what kind of a camera has been picked for the alleged Nokia Lumia 1020 successor. Unfortunately, we can't present you with a rumor that's even remotely solid. We've heard speculations of a 50MP sensor being used, which would explain the extra-large hump on the handset's back, but these aren't backed up with any evidence whatsoever. In fact, we're finding it more likely for Microsoft to stick with the tried and tested, optically stabilized 41MP camera found on the Lumia 1020. There's also word that a 20MP camera is in use. If that's the case, however, why would there be need for such a large camera bump? Could the sensor be physically larger than, let's say, the 20MP one on the 9.8-millimeters thin Lumia 930? Either way, we're confident that the camera carries PureView branding and comes with Zeiss optics.
The McLaren's camera is backed by a double LED flash for low-light and night shots. It could be of the dual-tone kind, like the one on the iPhone 6 or the LG G3, but is hard to tell looking at the leaked photos alone. What's more important to note, however, is that switching to LED-based illumination for the Lumia 1030 is odd when the Lumia 1020 had a xenon flash, which are known to be brighter and with a better range. On the other hand, LED lights use less power and you don't have to wait for them to recharge for several seconds after being used, as the case is with a xenon flash.
Now would be a good time to mention the Lumia Camera app, which should come pre-loaded on the McLaren. The app's fifth major release, which is expected to be released in the near future, will bring along a plethora of new, much-needed features, including 4K video recording and advanced HDR image capturing, where users get to adjust how much of an HDR effect they'd like in their images. Delays between individual shots should be reduced significantly. At the same time, users will still have full access to manual image controls, such as color temperature, shutter speed, exposure, and ISO.
Price, release date, expectations
Dealing with rumors can be frustrating, mostly because they don't always fit with one another and they rarely present us with a complete picture of what's to come. The McLaren's case is no exception, and as much as we wish we knew more about the Windows Phone 8.1-powered handset, we just don't have any further evidence to work with. Yet based on what's been thrown on the table, we wouldn't set our hopes high about the phone ever landing on shelves. We're not saying that a Lumia 1020 successor will never be. We're just not convinced that we're looking at it. Simply put, the number of rumor sources claiming that the phone's launch has been cancelled outnumber those suggesting otherwise.
But let's assume for a minute that this Microsoft Lumia 1030 is really coming. What would that lead to? Well, in that case, we'd say that it isn't the true
Lumia flagship that Microsoft could use right now
. The McLaren is shaping up as a niche device, much like the Lumia 1020, with its heavy focus on the camera department and the design compromises made along the way (we're looking at you, hump). Of course, there's nothing wrong with phones as unorthodox as the Lumia 1020. There's always going to be a market, albeit a small one, for smartphones built to excel at one task at any cost – a task such as taking good photos. A true flagship smartphone, however, must be one made to appeal to a broad audience, all while showcasing the best in terms of hardware, software, and innovations its maker was capable of putting together.
To wrap it up, we may never get to see the Microsoft Lumia 1030, aka McLaren, in the flesh. But if it is really meant to see the light of day, then Microsoft won't be keeping it a secret for long, we suppose. We have CES coming up in a few weeks, and even though Microsoft isn't going to attend, it might use the hype generated by the expo to bring us the news. If not, then there's MWC coming up in March – a perfect stage for unveiling hot new products. Price-wise, we'd expect the phone to be as expensive as a modern-day flagship.