Nokia Lumia 1020: smaller sensor camera than 808 PureView, but could capture the best images of any smartphone
54
The
Nokia Lumia 1020
is a mind-boggling smartphone that just arrived in our office and as it's making the rounds ahead of our first in-depth look (stay tuned!), we have to clarify a few things about its most important feature - the
camera
.
The Lumia 1020 comes with a 41-megapixel camera and at first look - judging by the
pixel
count - one would think that this means the size of the sensor (the part of the camera that collects light) is the same as the one in the 41-megapixel
Nokia 808 PureView
. Turns out, that is not exactly true.
The Nokia Lumia 1020 actually has a
very large by smartphone standards
but still smaller sensor than the one in the 808 PureView. While the one on the 808 measures 1/1.2" in size, the 1020 has a 1/1.5" sensor. What this means is that you have less space and smaller pixels. Without the oversampling, the physical size of pixels on the Lumia 1020 is 1.12µm compared to the larger 1.34µm on the 808.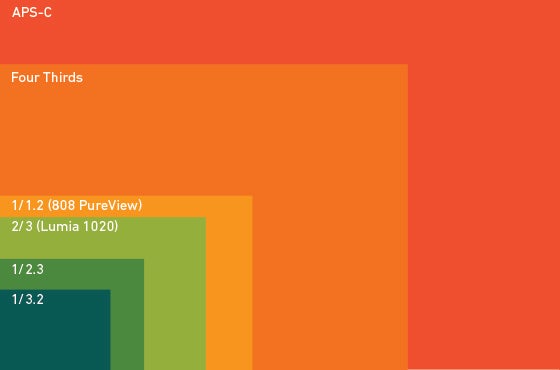 We have gotten a bit technical here, so
let us explain what this means
. Pixels are like buckets, but instead of collecting water, they collect light. The bigger the pixel the more light it collects and the more light it collects the better the images at night time and other situations where light is scarce. At first sight, that means the Lumia 1020 has a slight disadvantage when fared against its older sibling, the 808 PureView.
Let's not jump into conclusions that quickly, though. The new Nokia Lumia 1020 has some
key advantages
that come with that smaller sensor. The most obvious is the physical size of the device, it's much slimmer than the chubby 808 PureView. Next, the small size made it possible for Nokia to include optical image stabilization (OIS) that allows for longer exposure times and ultimately better video and low light shots.
Finally, this is not the same sensor as on the 808 PureView. Despite its larger sized, the 808 used front-side illumination, a more primitive camera technology where wires connecting the camera pixels with the phone got in the way of light and stopped some of it. The Lumia 1020 has a modern
backside-illuminated
(BSI) sensor with those wires not getting in the way, and allowing for the full lightstream to hit the pixels.
In conclusion, we'd like to also mention the
lossless zoom capabilities
of the new Nokia camera superphone. The Lumia 1020 has a zoom range of 25-69mm in SLR terms for image still and 25-100mm for 1080p video. Its f/2.2 aperture however does not drop when you go into higher zoom levels. That is one huge advantage as even the most complex DSLR lenses close the aperture and require much longer exposure times. The Lumia 1020 does not suffer from those mechanical problems.
How big of a revolution the Lumia 1020 is in smartphone photography? Stay tuned as our first in-depth look of the device is coming soon.