Nokia Lumia 1020 price cut to $200
34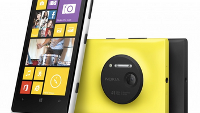 The
Nokia Lumia 1020
is the top-level Lumia and Windows Phone handset with a 41MP PureView camera on back. Priced at $299.99 on contract, the handset cost more than many high-end Android models and the
Apple iPhone 5
. As competitive as the smartphone market is, the $100 difference between the Nokia Lumia 1020 and, say, the
Samsung Galaxy S4
, might feel like the Atlantic Ocean. As a result, Finnish manufacturer Nokia has cut the price of the Lumia 1020 to $200 to match the iPhone and Android models.
But Nokia is also throwing in a free camera grip.
This is a $79 value
, but also offers a two-step shutter button that makes it easier to focus. In addition, the camera grip is embedded with a 1020mAh battery to help extend the battery life of the phone by about 50%. The grip also makes the phone feel more like a camera when you're taking pictures with it attached.
If you've been giving deep thought to picking up the Nokia Lumia 1020, now's the time. The price cut, by the way, is permanent. This should help the Nokia Lumia 1020 better compete in the camera-centric niche of the smartphone market that includes models like the
Samsung Galaxy S4 Zoom
, the just announced
Sony Xperia Z1
and the upcoming
Oppo N1
.
source:
GigaOm