Nokia Lumia 1020 41-megapixel camera to deliver 'punchy' colors
42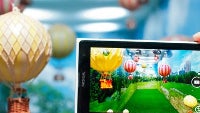 The
Nokia Lumia 1020
with its 41-megapixel camera sets a new standard in smartphone photography as it finally integrates Nokia's PureView technology with a modern operating system like Windows Phone 8. Interestingly, however, it is now revealed that colors on images shot with the Lumia 1020 will be slightly 'punchier' than usual.
Update:
Nokia's Damian Dinning now clarified that colors won't be 'overblown,' but 'punchy while remaining realistic.' That obviously seems contradictory, but Dinning claims that it is an 'important difference that takes years of experience to both first understand and then be able to implement.'
Unlike the Nokia 808 PureView and its approach to capture colors that are perfectly true to life even when they appear on the cold side, the Lumia 1020 is
boosting the color intensity
. The reason for that are studies conducted by Nokia showing that the majority of people prefer more vivid colors.
If you are wondering why the change, it seems that former Nokia imaging head Damian Dinning preferred an approach with more natural colors while Juha Alakarhu and the other optical engineers now responsible for Nokia cameras have slightly different preferences.
"The majority of people do prefer boosted colours. A much smaller group prefer pure/natural colours. Whilst we had a huge amount of positive feedback to this approach amongst a more involved user group, from a numbers perspective and considering the wider target use group punchy colours for products such as 920/925/1020 seem more appropriate according to ongoing studies,"
Dinning commented on Twitter.
Those studies have shown that people tend to remember colors differently depending on the conditions. In a bright sunny day, people looking at a rose tend to remember its red color more vivid than in reality. This study and the morals of it went into making the 1020. Interesting stuff, isn't it? What do you prefer, perfectly natural colors or slightly boosted ones?
source:
PureView Club