Nokia E6 surfaces in the wild
8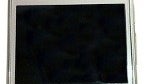 Nokia's business E series areone of the company's most successful products, but with the change ofmobile landscape touchscreen devices have started to invade thebusiness segment all the more. This puts a big question mark next tothe Nokia E6, which was leaked on Engadget a mere week beforeNokia is expected to announce its new handsets.
The Nokia E6 looks very similar toNokia's previous business models E73/E72 not only in the portraitQWERTY style, but in the apparent lack of a touchscreen.While that is not officially confirmed the small screen size and thepresence of a D-pad point in that direction. In addition, the phonewill get an 8-megapixel camera with LED flash and is rumoredto have a resolution of 640 x 480 pixels. The screen sizelooks small and judging from Nokia's previous business models it willbe under 3 inches.
The authenticity of the model wasconfirmed by Russian tech analyst Murtazin, who received the samepicture from "someone who works at Nokia." He also points outthat many people disagree with the company's strategy. Will thepreviously successful business formula work this time? In our opinionthe price would be a decisive factor, but most people perceivenon-touchscreen as a thing of the past. What's your opinion on theE6? Let us know in the comments below.
source: Engadget
Recommended Stories