Nokia E73 Mode Review

Introduction:
Nokia Nuron 5230
, for most people, it probably didn't truly showcase the manufacturer's premier offerings. However, now that the
Nokia E73 Mode
is taking flight, it may prove to be a worthy addition for US consumers to experience. Naturally one would assume that it would be the successor to the
Nokia E72
which was released back last year in Europe, but instead it's actually the same handset which has been re-branded for the US market – still, it has the potential to infiltrate a market that's heavily littered with BlackBerry smartphones.
The package contains:
• Nokia E73 Mode
• Wall charger
• Car charger
• Hands-free headset
• microUSB cable
• Leather pouch
• Safety & Reference Guide
Design:
Aesthetically, the Nokia E73 Mode doesn't stray far from the appealing looking design of its predecessor. Aside from the minor rearrangement of dedicated buttons and color scheme, the handset's dainty design continues to catch our gaze seeing that its construction feels solid and can easily rival some of its contemporaries. Seeing that it wouldn't pose to be much of an issue for some people, we still prefer the lighter contrasting colors found on the E72 as opposed to the E73's copperish looking tones. The choice of using metallic feeling material accentuates its classy appearance especially when you hold it in your hand. Overall, there is some weight (4.5 oz) to the handset that tastefully supplements its premier stature which ultimately cements its stance as a quality handset.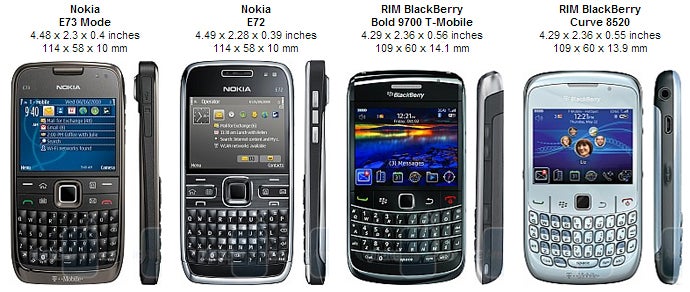 You can compare the Nokia E73 Mode with many other phones using our
Size Visualization Tool
.
QVGA display
that doesn't render it totally useless in direct sunlight - its quality and visibility is more than adequate when you consider its size of
2.4
". Smaller texts are still legible while color tones radiate brightly thanks to its support for 16 million colors.
Some of the physical transformations that the Nokia E73 Mode makes over the E72 is the arrangement of
soft keys
and
dedicated buttons
. This time around they're laid out evenly across and flush to the surface which allows your fingers to easily touch them without accidentally pressing another. Even though it might take some time adjusting to, the
optical pad
is found once again surrounded by the traditional directional pad – plus, you can adjust its sensitivity to better accommodate your needs or altogether disable it.
Fortunately the smartphone retains the same exact
QWERTY keyboard
found on the E72. Despite their small size and no spacing in between buttons, fingers will be able to easily differentiate them because they're bubbled. Even better is the solid tactile feel you get when pressing down on them, but we'd imagine that most people would resort to using their fingernails instead. Finally, the white back lighting is proper and strong enough to be visible in almost any lighting condition – we especially adore the subtle glow of the optical pad when it's on standby mode.
To the
left side
, you'll find the microSD card slot and microUSB port, which, thankfully, is now used for both data connection and charging. You'll find the 3.5mm headset jack and dedicated power button
on the top edge
while the decently sized volume rocker and dedicated voice command button are located on the
right side
of the phone.
On the backside
, the 5-megapixel auto-focus camera with LED flash can be found towards the top portion with the speaker phone next to it. Finally, removing the stainless steel patterned back cover provides you access to the battery compartment and SIM card slot.
Nokia E73 Mode 360 Degrees View: