Nokia E6 shows off its full focus camera (samples)
15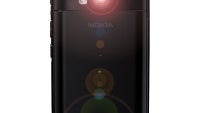 The recently announced Nokia E6 buildson the success of Nokia's business-centric E series, but it alsobrings a redesigned Symbian codenamed Anna and a prettycapable 8-megapixel shooter. The major downer – it's a fixed focusunit, or as Nokia calls it – full focus.
What full focus comes down to issimpler architecture with no moving components, which allows thecompany to both cut cost and make thinner phones. But while it allowsall objects further than some 20 inches apart to stay in focus, anyattempts for macro photography are doomed to turn out blurred asobjects closer than the 20-inch threshold appear out of focus.
The photos below come from Nokia andeven though they're taken with a prototype of the E6, they look greatwith nice saturated colors, all shot in rather good well-litconditions. Whether you like fixed focus actually comes down to userpreference: aspiring photographers who value speed the most inshots might prefer fixed focus as it eliminates the millisecondwaiting time an auto-focus camera takes to actually focus. Take alook at the photos below and judge for yourself.
source: Nokia Conversations