Nokia Drive coming to other WP7 phones...for a price
6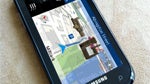 Nokia confirmed at a launch event in India today that they will be making their voice-guided navigation app available in the Windows Phone Marketplace for an undisclosed price. Prior to now it had been thought that Nokia Drive would
remain exclusive
to Nokia handsets.
This information comes just days after a
pirated copy of Nokia Drive was demonstrated
running on a competing manufacturer's Windows Phone 7 handset. Whether this influenced the decision is not known, but it would certainly make sense that Nokia would prefer to profit from the larger Windows Phone ecosystem rather than watch as side-loading their app onto other phones became a common practice.
It's also possible that this had been the plan all along; Windows Phone does not otherwise have a true competitor to Google Maps on Android, whose voice guided navigation is regularly seen as a major differentiator for the platform. With all WP7 phones getting access to Nokia Drive, it will be one more box on the spec sheet that can be checked when making cross-platform comparisons.
source:
Twitter
via
wpcentral