Nokia CEO Stephen Elop sells all his Microsoft shares
19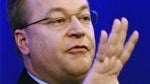 Nokia's investors and devoted fans were reasonably concerned when
Stephen Elop
was appointed the new CEO of Nokia. After all, he was a former employee of Microsoft, and possessed 130,000 Microsoft shares valuing US$3 million. The concern was that Elop was implanted with the intention of guaranteeing a
Windows Phone 7
-Nokia collaboration.
Nokia devotees shouldn't be concerned.
Stephen Elop
is in the process of selling off all of his Microsoft shares. He explains that when he first moved from Microsoft to Nokia, he was legally prohibited from selling his shares. He started to sell them off, but was again prohibited during the negotiations between Microsoft and Nokia.
Elop has made it clear that he is selling
all
of his Microsoft shares. In fact, he has purchased 150,000 shares in his new company. Elop assured the media that "We made sure the management team was involved in the process, and of course the board of directors of
Nokia
are the only ones that can make this significant of a decision about Nokia."
But beyond Stephen Elop, what do you think about a Nokia-Microsoft collaboration? Will Symbian be missed, or is Windows Phone 7 a good match for your Nokia device?
source:
Symbian Freak