Nokia's embattled CEO steps down, Stephen Elop from Microsoft will take over
10

Well,
the WSJ rumor turned true
, and it seems that finally Nokia bit the bullet, and is sincerely looking to change. The embattled CEO Olli-Pekka Kallasvuo is stepping down after 30 years at Nokia, to make place for the 46 year old Canadian Stephen Elop. Mr Elop has a computer engineering background, and has been rising up first gradually through the ranks at Macromedia for seven years to become a CEO there, until it got acquired by Adobe Systems, where he presided the global sales organization. Then he joined the network infrastructure company Juniper Networks, where he was a Chief Operating Officer, responsible for all of its product groups sales, services and marketing.
Then came the big leap up to head Microsoft's Business Division, the department responsible for the most profitable line of Redmond's products - Microsoft Office. Therefore he has definitely been behind the move of Microsoft Office to the cloud service that got announced recently, and is accustomed of bringing change to a behemoth organization. He worked with Nokia on the alliance that aimed to bring Microsoft Office Mobile to Symbian devices and that's probably where the Finns got impressed by Mr Elon.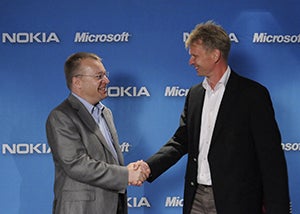 Stephen Elop and Nokia VP Kai Öistämö&nbsp
Change is precisely why Nokia hired him - it wanted an outsider, who will bring fresh perspective. Stephen Elop has the technical background, the experience in sales, marketing and operations. To top it all off, he doesn't seem to shy away from turning course for big, established companies that are somewhat
turning complacent,
due to their huge market share piece. Nokia has been
playing musical chairs
with some of its executives and divisions for a while now, looking for the right mix.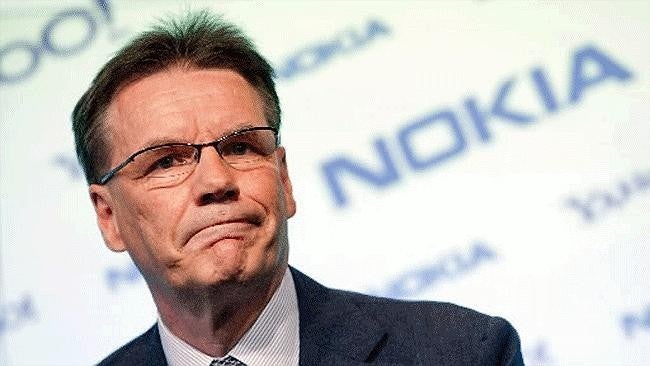 Olli-Pekka Kallasvuo&nbsp
Olli-Pekka Kallasvuo is stepping down on September 20th, with a severance package of 18 months of his gross base salary, a 4.6 million EUR (~$5.83 million) incentive package, and 100 000 restricted shares, which he can cash in starting next month. Well, Nokia shares are rallying today in Europe, and Wall Street will be definitely approving of the move too, so his shares are now worth roughly a million dollars. We can't wait for Mr Elop to reveal the strategy ahead, it might as well be a game-changer, considering how stuck Nokia has become with its Symbian platform. Despite its
leading global market share
, Nokia is not making much money recently, Apple made more from just one device than Nokia's whole lineup brought in for the quarter. Here is Mr Elop's statement on the matter:
"I am extremely excited to become part of a team dedicated to strengthening Nokia's position as the undisputed leader of the mobile communications industry, with a relentless focus on meeting the needs and expectations of customers. Nokia has a unique global position as well as a great brand upon which we can build. The company has deeply talented and dedicated people, and I am confident that together we can continue to deliver innovative products that meet the needs of consumers. The Nokia slogan clearly states our key mission: Connecting People, which will acquire new dimensions as we build our portfolio of products, solutions and services," he said.
We are embedding a video below, that was ordered by Mr Elop as head of the Microsoft Office division, and charters the ways to increased productivity for the next ten years, as part of the "Envisioning" series of the Microsoft Office Labs. If some of this materializes during Mr Elop's tenure at Nokia, good times.
Still, it will all boil down to how the Nokia N8 fares on the market, a device that was conceived while the current CEO was still in charge. As a consolation prize, Mr Kallasvuo will remain chairing the board at Nokia Siemens Networks in a non-executive status.
Nokia N8 Specifications
|
Hands-on
source:
WSJ
Recommended Stories