Nokia Asha 310 hands-on
4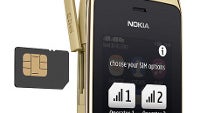 Nokia's Asha lineup has been a big success in developing markets and the Nokia Asha 310 just aims to build on the solid foundation that has been laid out. An ultra-affordable feature phone with a dual-SIM and Wi-Fi connectivity support, it is a compact little device.
Our initial impressions are of a cheapo light and plastic device, something that you can use as a backup phone and take with you to the beach without fearing you'd lose or damage it. For people in developing markets, the Wi-Fi connectivity is a nice addition.
The Asha 310 comes with a 3-inch capacitive WQVGA display and runs on Nokia's Series 40. Nokia is bundling this with free games from EA, but those are very basic Java titles, nothing like the graphically awesome titles from Android and iOS.
The Nokia Asha 310 supports microSD cards of up to 32GB, and 2G cellular data.The device is coming to Asia, India, the Middle East, Africa and Brazil in Q1 2013.