Nokia 7900 Prism is strange but cool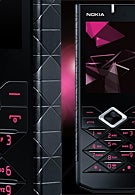 7500 Prism and the 7900 Prism.
While we've seen the 7500 officially earlier thanks to its Asian premiere, the 7900 Prism is a new phone that was not known until now. It comes as the senior Prism device and improves on both the design and the functionality.
To show it is higher-class design, the 7900 Prism combines the glossy black front side with anodized aluminum back cover that is coin-stamped and laser etched for the diamond-like shapes, typical for the Prism series.
The Nokia 7900 is a quad-band GSM, capable of working world-wide, but it is also a dual-band (850/2100 MHz) UMTS 3G device, which allows it to use high speed networks both in Europe/Asia and in America. It has 1GB of integrated memory, 2" OLED display with 16 million colors and Stereo Bluetooth, but its key features are targeted to the design. The 7900 Prism has 49 color variations for the backlight of the keyboard and the lights on the top, which greatly personalizes the look. Also the software can change the background images according to the day time and the battery/signal strength, which is called "living wallpaper".
Nokia 7500 Prism Specifications
Nokia 7900 Prism Specifications
source: Nokia