Nokia #1 again in Finland as Nokia Lumia 610 and Nokia Lumia 900 launch
79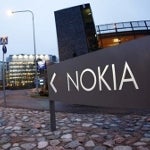 Both the
entry-level Nokia Lumia 610 and the high-end flagship Nokia Lumia 900
were launched Friday in Nokia's home country of Finland, and both devices got off to a great start. DNA Trade Manager Sami Aavikko told
Taloussanomat
that things went smoothly and that the two models were the carrier's best selling handsets of the day. Aavikko did say that the devices will face more competition soon
when the highly anticipated Samsung Galaxy S III launches in the country
.
The launch also went smoothly for carriers Elisa and TeliaSonera. Elisa Vice President Henri Korpisaid that there is
demand for the Lumia models
and that the phones are off to a good start. TeliaSonera's consumer business director Juha Koivuniemen said that while business has been good for the Nokia Lumia 900, the sales did not match what the carrier saw during the launch of other Lumia handsets.
Elisa's Korpi said that now was a good time to launch a phone with school ending and graduates getting a new phone as a gift, or receiving money that they can use to buy a new phone. Korpi mentioned that the Finnish market is super competitive and also brought up
the impending launch of the Samsung Galaxy S III
. DNA's Aavikko said that pre-orders of the Nokia Lumia 900 and the Samsung Galaxy S III went "
hand-in-hand
" He added that sales of the Nokia Lumia 610 on Friday were very successful and sales for the Nokia Lumia 900 were promising but within expectations.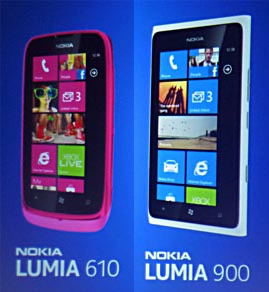 The two recently launched Nokia Lumia models in Finland
Meanwhile, information from research firm IDC shows that Nokia now has a 41% stake of Finland's smartphone market. That is good enough for first place in the Country. Last summer,
Nokia's share of the Finnish smartphone market was down to 31%
and the manufacturer embarrassingly was not leading its own home country in smartphone market share.Thanks to the Nokia Lumia series, Nokia is back on top in its home town with Korean bred Samsung second scoring a 28% of the Finnish smartphone market, and Apple third with a 21% slice of the Finnish pie. Taking a look at the latest data from Statcounter, as of this month, Windows Phone has a rather significant 7.53% share of the Finish smartphone market.
While the population of Finland is small at 5 million people, what is important is the symbolic leadership of Nokia's home country. If the OEM can't own the leading market share where it has it's HQ,
something bigger than thought is eating away at the company
.
source:
Taloussanomat
(translated)
PennState
via
WMPoweruser