No more Lumia? Leaked slide hints that Microsoft plans to replace the Nokia branding soon
99+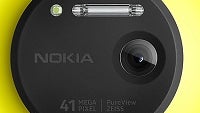 We've been wondering what will happen with the Nokia Lumia brand of smartphones after
Microsoft acquired the division
to bolster a Windows Phone portfolio of its own, and not much has been heard on that front since the acquisition was made official. The deal terms say that Microsoft can use the Nokia brand on handsets 18 months for Lumia smartphones, with the right expiring on December 31, 2015, and 10 years for mobile phones in general.
Microsoft, however, seems adamant to get rid of the branding as soon as it launches the first Windows Phone product created under its umbrella, judging from a slide sent to @evleaks. As you can see, in the transition strategy sent to Nokia employees, it is advised that the "
Microsoft brand will only replace the Nokia brand in product, applications and experiences when Microsoft has launched a new product into the market
."
This could be an indication that whatever major Windows Phone handset launches this year, perhaps as soon as the
rumored McLaren flagship
, might be branded with whatever title the marketing team from Redmond concocts for its first smartphone of their own making. Whether that means that the accompanying buzzwords like "PureView" will also be chucked, remains to be seen. Given the rumor that Microsoft's McLaren handset will have Kinect-style gestures incorporated, other famed company brands might wiggle their way in the phone, too.