No international or US availability for the "flexible" Galaxy Round
37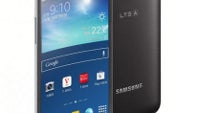 Samsung has been teasing us with prototypes of flexible OLED screens for years, and now it's finally made the important step to put such a panel into a commercial product.
Enter the Galaxy Round
- a Note 3-like smartphone/phablet, the screen and body of which introduce a new, slightly curved design. And that's where we have to make the important note that although the screen is called "flexible," the device itself isn't. Yes, if you disassemble the phone and take the display out, it'll probably be bendable, but once inside the safe compounds of its plastic casing, it'll assume a slightly curved, yet completely rigid form.
Regardless if one can find use for such a design or not
, we've gotten a piece of news from Samsung that may not appeal to the geeks of the world, who have been patiently waiting for the South Korean company to bring this technology to market. A Samsung spokesperson has confirmed for us that there are no immediate plans to release the Galaxy Round in international markets or the US. Instead, it will be exclusively sold in Samsung's homeland of Korea (the release date is October 10), where the company is known to soft-launch its more off-beat products. In case the phone is received well, it wouldn't be surprising if we see an international release for the Round at a later date. Whether or not this is going to happen, though, is too early to say.
Are you expecting Samsung's first handset with a curved/flexible screen to become popular with consumers?