Are flexible screens going to be something useful, or just another gimmick?
37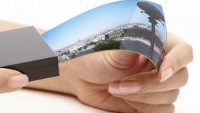 With an impending release of at least two devices with flexible screens (or curved, if you will), courtesy of the South Korean tech duo, LG and Samsung, hype appears en-route to its peak, until, finally, it will inevitably plateau as emotions give way to facts.

Said to have finally mastered what can be best described as tech out of fiction, the aforementioned two rivals have finally entered the latest stage of their rush to market – mass production, and soon: at least partial availability to the everyday consumer.


At a time like this, it appears only natural that we start asking some rather essential questions. Surely, the usefulness of the new technology, for example, is a top concern for most anybody reading about it, and
we have tried to emulate a few case scenarios
where we could see flexible screens being useful. Were those exhaustive, and more importantly – convincing? Are flexible screens going to be something useful, or yet another gimmick? You tell us