No headphone jack? No problem — iPhone 7 and 7 Plus sell like hot cakes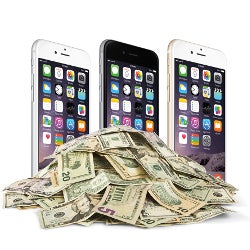 It has been about a month since Apple officially started selling its new iPhones, and as we all know — they are selling well. The Plus models are a bit scarce, the Jet Black edition is
pretty hard to grab a hold of
, you know — the usual Apple stuff. Of course, it's always a mystery just how well the phones are doing, and some have been predicting doom and gloom for the
iPhone 7
due to the omission of the headphone jack. So, how are they doing?
Market analyst Consumer Intelligence Research Partners (CIRP) recently published its analysis of Apple's sales for the fiscal quarter that ended on the 24th of September — two weeks after the iPhones started selling. Well, in those two weeks, the
iPhone 7
and
iPhone 7 Plus
managed to make up for 43% of total US iPhone sales for the whole quarter. In other words, in 14 days, they sold almost as much as the rest of the available iPhones sold for the whole summer (July – September).
According to the stats, most of the iPhone 7 and
iPhone 7 Plus
buyers are upgrading from the
iPhone 6
/
6 Plus
combo, adhering to the 2-year upgrade cycle. The new phones don't seem to be dragging a lot of Android users on board, at least for now — only 9% of iPhone 7 units were sold to ex-Android customers. However, around 20% of other iPhone sales in this quarter came from Android users.