No Touch Pro2 for you says U.S. Cellular to subscribers?
5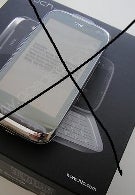 Dr. Gregory House tells us that, "Everybody lies". According to an anonymous tipster, the CEO of U.S. Cellular is saying that rebate sheets lie. Despite what we
reported
about the carrier getting the HTC Touch Pro2 back in April, the carrier's executive is telling us that the sizzling hot Windows Mobile device will not be released by U.S. Cellular and any report saying otherwise is a big mistake.
The carrier is planning on adding a new Samsung phone to its line-up this week, according to the tipster. It looks like the LG Xenon without the QWERTY keyboard and will be offered in lime green and in orange and white. As soon as we hear more about this, we will pass it on to you, of course. No lie.
Thanks anonymous tipster!