No Child Left Behind the iPad craze: Maine kindergartens to spend $200k on iPad 2s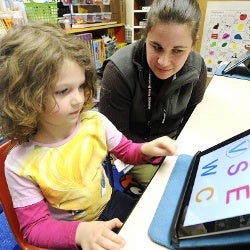 You might think that it's the kids'decision, but you'd be wrong – the school committee in the city ofAuburn in the great state of Maine has approved a plan to fulfillevery five-year old's dream – an iPad. You might have also thoughtthat since it's for the kids, they could have gone for the discounted firstedition in this troubled economy, but you'd be wrong twice. With thatsaid, comes the shocking number - $200,000 for second-gen iPads for285 kindergarteners and additional tablets for the teachers as eachtablet will cost $479.
The iPad 2 program has the sole goal ofincreasing literacy from the current 62% to 90% by 2013 and Apple'stablet is the perfect tool for that, at least according to literacyinstructor Mauri Dufour. And while some parents love the idea, otherslike Nicole Fortin commented:
"It's crazy. I look at all of thebudgetary restraints we have. Our school system loses money everyyear to certain things. This is a lot to put in the hands of a5-year-old."
After a special training program, thekids as well as the teachers will be allowed to take the iPads home.To fuel the controversy even more, a recent study suggested thatiPads are mostly used for gaming. Oh, and 6-year olds who have missedthe opportunity must be green with envy. Don't you just wish you were a kindergartener nowadays?

source: IntoMobile and FreeRepublic