No 128GB Galaxy Note5 and Galaxy S6 edge+ models coming, Samsung clarifies
44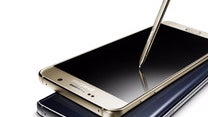 Have you ever wondered how much stuff can fit in 128 gigabytes of storage space? To give you a rough idea, that's enough memory to hold over 20,000 high-resolution photos. Or over 30,000 songs encoded in high-bitrate MP3 format. Or more than 36 hours of high-quality, 1080p video. Or tons upon tons of mobile apps and games. Simply put, 128 gigs are much more than a regular user would need on their smartphone, but probably enough to suit the needs of a hardcore power user.
Unfortunately for hardcore power users, there won't be 128-gigabyte versions of the
Samsung Galaxy Note5
and
Samsung Galaxy S6 edge+
. Yes, even though 128GB models did appear on the two phones' pre-order pages last week. These were listed by mistake, as Samsung itself clarified. The Samsung Galaxy Note5 and Galaxy S6 edge+ will be only available with 32 or 64 gigabytes of built-in storage.
The reason for Samsung to pass on 128-gigabyte models for its high-end phablets isn't clear. Whether a 128GB variant will be released at a later point in time isn't known either. What's pretty certain, on the other hand, is that many power users will be disappointed by the omission. Neither the Galaxy Note5 nor the Galaxy S6 edge+ can accept microSD cards, which makes matters even worse for that small fraction of heavy users who really need the extra gigs.
Are you disappointed in Samsung for not releasing 128GB models of the Galaxy Note5 and Galaxy S6 edge+? Let us know what you think in the comments section below!