iPhone to be 50% of Q4 sales for top 3 US carriers
32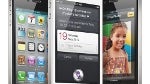 Regardless of how you feel about Apple and its products, you cannot argue with the results. Apple has been losing traction to Android and specifically
Samsung
in recent times, but the iPhone is still the single most popular smartphone on the planet. Now, some new estimates are saying that Apple could account for at least 50% of all smartphone sales for the top 3 wireless carriers in the US.
Obviously, it's only the top 3 because the iPhone still isn't available on T-Mobile, but the predictions seem very reasonable. The basic idea is that in Q3, the iPhone 4 and 3Gs were the two available models. The 4 was available on both AT&T and Verizon, while the 3Gs was AT&T only. Those two models accounted for just over 45% of smartphone sales on those two carriers. The iPhone 4 sold 2 million units on Verizon (out of 5.6 million smartphones), and 2.7 million on AT&T (out of 4.8 million). Of course, in Q4 there will be more available iPhone models, and Sprint gets added into the mix. But, on top of that, Q3 was a down quarter for Apple because everyone knew that the new iPhone was coming in October.
So, with just an aging iPhone 4 and a legitimately old iPhone 3Gs in a quarter when people were holding off because of a new release on the horizon, Apple still managed 45% of the smartphone sales on Verizon and AT&T. In Q4, there is not only the new iPhone 4S, but the iPhone 4 is available on the top 3 carriers at a discount, and AT&T users on a very strict budget can still grab an iPhone 3Gs for free. Given that we know the 4S sold 4 million units in its first week alone in worldwide sales, it seems easy to expect this will be a huge quarter for Apple. Some analysts have the numbers much higher, but at least 50% of smartphone sales on Verizon, AT&T and Sprint is definitely within reach.
source:
BGR