Nexus One owners frustrated over poor device support?
7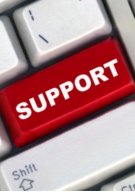 As if the Nexus One's reported issues with 3G
connectivity
weren't enough, early adopters of the handset are also voicing their disdain about poor device support. The way the handset is being dealt with is very unique – generally you can go to your wireless carrier for technical troubleshooting without the need to be referred elsewhere. It's definitely a one-stop shop for all your needs – from hardware, software, and network issues; it makes it convenient for the customers. Maybe it's just the start, but Nexus One owners are complaining that Google isn't offering the kind of device support they're used to. Currently it looks as though Google is only accepting email customer queries; which is stated to take one or two days for a reply. Unfortunately turning to HTC or T-Mobile for questions or answer, they are informed to contact Google about all issues. From the start of this all, T-Mobile USA made it clear that device or technical support was going to be headed up by Google; not them. Although it may seem like baby steps right now, Google will have to adapt quickly in order to meet the satisfaction of their customers.
HTC Nexus One Specifications
|
Hands-on
source:
DSLReports